Simultaneous Interpreting Services

---
What is Simultaneous Interpreting?
Simultaneous Interpreting is a highly skilled, high-pressure form of interpreting whereby the linguist interprets at the same time as the speaker. It is most suited to long speeches, usually during international conferences, forums and presentations, in conjunction with specialist equipment to enable seamless interpretation. We've provided simultaneous at key conference hotspots including London, Liverpool, Birmingham, Manchester and further afield in other countries too.
Given that simultaneous interpreting requires intense concentration, our operations team will supply two interpreters per language required and the linguists take breaks each half-hour or so and swap out with each other seamlessly. It's best to give us as much warning as you can in booking, which will give us time to find the best-suited interpreters for your event and content. We will pass on any information we're given to the interpreters in advance, which often includes project briefs, summaries of speeches, presentations, etc. so that they can familiarise themselves with any particularly specialist vocabulary, terms and phrases.
We can provide the necessary equipment for any number of event delegates, including earpieces, headsets, microphones, soundproof booths and more in cities such as London, Liverpool, Birmingham and Manchester. . Please do make sure that this is taken into account when booking a venue and planning room layouts. The equipment is standard across the industry and our interpreters are well-versed in its use, meaning no hiccups in the programming of your event.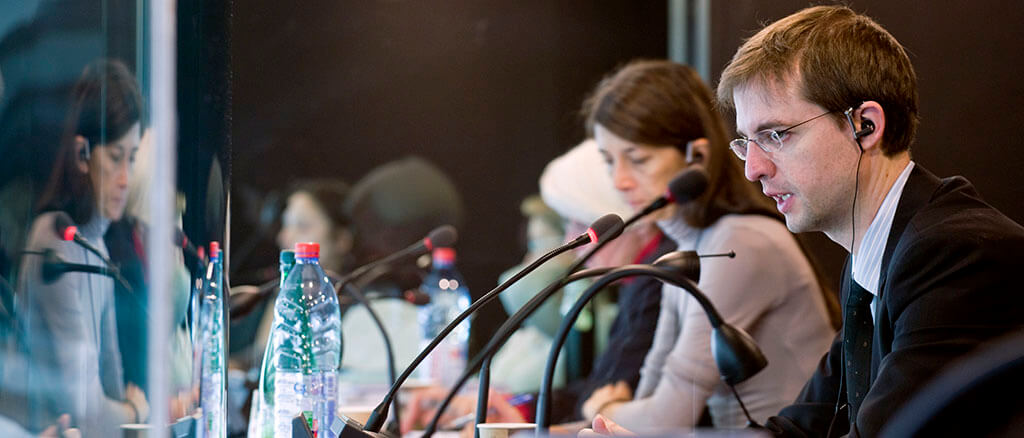 Meet The Interpreting Team
---
Waheeda is our Interpreting Manager and heads up an amazing operations team fulfilling thousands of interpreting bookings a month. She and her team will make sure you get the best-qualified, most experienced interpreters for your event and that it'll go without a hitch.
Call our team today
We'd love to hear from you. Our friendly team will take you through the options and discuss what might best suit you, and all within your budget. Give us a call on +441635 866 888 or enquire below.
Contact Us